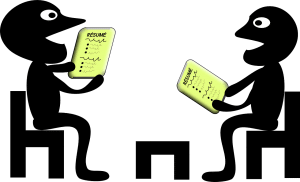 Are you a fresh graduate who wants to be confident to land a good job? Or probably you have been looking for work for many months and until now you are not successful at it. One main thing that you should know about job-hunting is that you need to advertise yourself. There are a lot of job-seekers like you out there. For this reason, you need to stand out and beat them all. However, no matter how skillful or hardworking you are if you are not able to showcase your advantages well, then chances are you would be left behind.
Resume plays a very crucial role in job application. Employers or HR's will certainly not spend too much time investigating each individual in a sea of applicants. It would not take them 5 minutes to scan each resume. Therefore, if you are serious in getting a job, then better make sure that your resume would call their attention.
So, here are some tips that can help you make your resume attractive to target employers. Follow them and find yourself more confident in job applications.
Do not make it too long
Some people think that the longer their resumes are the better. Well, the truth is they are just creating too much noise about themselves. Remember, employers do not want to waste so much time going through a single resume (they got a bunch of them to finish). Therefore, make your resume as brief and concise as possible. Avoid putting irrelevant information like your father's name and job, religion, and favorite color. They have nothing to do about the position they are offering, so why bother?
Make your resume simple and readable
Avoid using fonts like Comic Sans and Freestyle Script. Instead, use fonts that are simple yet readable like Times New Roman and Calibri. Also, do not make your font too small. Anything below size 10 is a turn-off. Moreover, you must not use paragraphs, but present each skill and point with a bullet. This is easier to read and scan. As much as possible, they should also see a lot of white spaces on your resume for a cleaner and lighter impression. HR's usually have heavy works, so avoid adding to their stress.
Only include relevant skills and experiences
If you are applying for a teaching position, then why mention that you have been a pastry chef? It is not relevant to your target job. Avoid putting work experiences, certificates, and skills that have nothing to do with the position you want to apply for. Your future employer wants to know why you are perfect for the job, so what they need to see are the skills and experiences relevant to it. If you include a lot of irrelevant information on your resume then chances are they would throw your papers away. Well, this tip can help you shorten your resume.
Use power words
Instead of just listing the tasks you have done in the past like 'worked as a manager', you need to be more aggressive in promoting your managerial skills. You can write it as 'managed a team of'. Instead of writing 'computer literate', state 'proficient in Excel.. etc.'. Employers want to know your skills—what you can do—not the positions you were in before. Therefore, use power words to describe what you can do, so that they will see your advantage. Use words like 'planned', 'led', 'increased', 'supervised' and others that can help them see through your abilities.
Put a summary of your qualifications
To give employers or HR officers a heads up of what your resume is all about, include a summary of qualifications at the top of your document. It should be specific and must highlight your skills and experiences. An example of this could be "Multimedia specialist with 3-year experience in web design and animation" or "Versatile secretary with proficiency in MSW Word, Powerpoint, and Excel".
An attractive resume can give you a better chance of moving to the next level of the job application. For this reason, you should really take time to enhance yours. You have to be competitive right from the start of your career searching, as there are many who also want to follow their dreams. Good luck!
Joan Cyril Abello graduated with a bachelor's degree in Communication Arts. She is a content writer and a blogger. Currently, she's a content specialist at BusinessTips. Follow her on Twitter at @Joan_Cyril.