Evil thoughts and evil plots are no good in business and in our whole life. Well, it's evil, it's bad, and it deceives anyone, including oneself. You might make a lot of money instantly when you use evil schemes in your business. You might earn instant fame using evil ways. But eventually those achievements will not last and can even bring you to more troubles and problems. A business or enterprise founded using dirty tactics will have their way to penalties. A person who gains fame and fortune using evil ways will soon have his or her way to punishments. That is why I always advise people who want to succeed in life to get rid of the devil and his evil ways.
Evil comes in many forms, and they all can ruin your life. Evil can be in a form of pride, lust, envy, gluttony, sloth, wrath or greed. They all can destroy your good plans. They all can ruin good relationships, such as your relationship with friends, families, customers, and your employees. That is why we need to do our best to win our war with the evil one.
It's difficult to overcome evil spirits since they are unseen and they can even reside within yourself, particularly inside your heart. But defeating them isn't impossible. God has always taught us and provided us the answers on how to defeat evils. Yes, I am Christian. I follow Christ's teachings and the Holy Words of the Bible. If you're not a Christian, you are still welcome to read and scrutinize this post. This post is for all humans.
So how do we get rid of the devil?
The job of the evil one is to tempt people. If you're businessman, it will tempt you to deceive your customers and entice you with high profits and fortune. If you're a leader, it will tempt you to do corruption and will entice you more wealth and power. The devil will lure you with many things to convince you to practice greed, pride, envy, and other evil things.
Now, the secret to get rid of the devil is simply to resist all of its temptation. Once the devil finishes with all his temptation, it will leave you until it sees an opportunity to temp again.
"When the devil had finished all this tempting, he left him until an opportune time." – Luke 4:13 (NIV)
But resisting the evil's temptation is just one another question to answer. How can we resist its temptation? Blessedly, God answers this question. The following are the ways on how to resist all the tempting of the evil one.
Submit yourself to God.
"Submit yourselves, then, to God. Resist the devil, and he will flee from you." – James 4:7 (NIV)
Be self-controlled and be alert.
"Be self-controlled and alert. Your enemy the devil prowls around like a roaring lion looking for someone to devour. Resist him, standing firm in the faith, because you know that your brothers throughout the world are undergoing the same kind of sufferings." – Peter 5:8-9 (NIV)
Do not give the devil any opportunity.
"In your anger do not sin": Do not let the sun go down while you are still angry, and do not give the devil a foothold." – Ephesians 4:26-27 (NIV)
Finally, put on the full armor of God.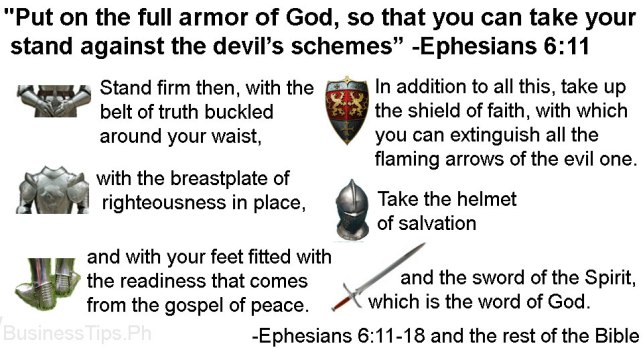 "Put on the full armor of God, so that you can take your stand against the devil's schemes. For our struggle is not against flesh and blood, but against the rulers, against the authorities, against the powers of this dark world and against the spiritual forces of evil in the heavenly realms. Therefore put on the full armor of God, so that when the day of evil comes, you may be able to stand your ground, and after you have done everything, to stand. Stand firm then, with the belt of truth buckled around your waist, with the breastplate of righteousness in place, and with your feet fitted with the readiness that comes from the gospel of peace. In addition to all this, take up the shield of faith, with which you can extinguish all the flaming arrows of the evil one. Take the helmet of salvation and the sword of the Spirit, which is the word of God. And pray in the Spirit on all occasions with all kinds of prayers and requests. With this in mind, be alert and always keep on praying for all the Lord's people." -Ephesians 6:11-18
I hope this post has given you more strength, wisdom, and power to get rid of evil. Be blessed and always live greatly. If you have questions and you still need more enlightenment, feel free to use our comment form below.