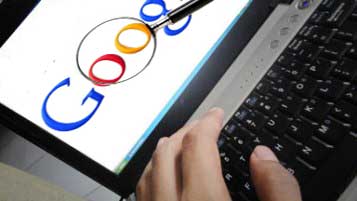 Google, the Internet search giant, is one of the world's best companies to work for. Every Internet and tech professional has probably thought about working in Googleplex – the corporate headquarters complex of Google, Inc., located at Mountain View, California. However, not all of us can work there and become a Google HQ employee, especially for those who are residing outside the USA and don't want to be relocated. But if you really want to work with Google even without leaving your home, there are still ways to do it. Here are 5 online business opportunities or ways to make money online by teaming up with Google:
1. Google AdSense
AdSense is one of the most or even the most popular money making online scheme among bloggers and website owners. It is free to join, and once your account is approved, placing Google ads in your website or blog is easy and convenient. Google gives you an online business opportunity to earn profit through AdSense. All you have to do is to build a website or blog, publish high quality contents, drive relevant and targeted traffic to your site, and use AdSense program to earn money from your traffic. Google's payout threshold is $100. Once you reach that amount of earnings, Google will send you check to your address or cash through Western Union… just like their employee or actually a subcontractor. Check out this post on "How to Make Money Online with Google AdSense".
2. Google Affiliate Program
Google affiliate program ads differ from a typical AdSense ad, as the first are based on CPA (cost-per-action) and the latter is based on CPC (cost-per-click) or conversion. If you already have an approved AdSense account, you can also participate in Google affiliate program for free and have the opportunity to earn commission for driving sales or leads to Google's network of quality advertisers. The earnings in this affiliate program can also be received through your AdSense account. To maximize your earnings from Google Affiliate program, you also have to build a high-quality website or blog with relevant and targeted traffic.
3. YouTube Partner Program
YouTube is the largest online video community in the world – and it is owned by Google. If you have the talent and creativity to pull millions of audience by creating compliant, interesting, unique, and viral videos (e.g. music, graphics, movies, and live performances), the YouTube Partner program can be a good online business opportunity for you. This program features several programs to help you boost your YouTube-based career, enhance your talents and skills, build worldwide audiences, and earn money by monetizing your content with relevant ads. If you think you have what it takes to be a superstar in YouTube, then learn more about their YouTube Partner program here.
4. Google AdWords
While AdSense is for publishers who want to make money from their web ad spaces, Google AdWords is for advertisers who want to earn profit by promoting their products through PPC (Pay-Per-Click) advertising on Google search engine and its partner websites (the websites of AdSense publishers). Through AdWords, Google gives you an opportunity to boost your online marketing success, attract more customers, and increase your business profit.
Aside from using AdWords to promote your own product, you can also use it as an expertise to generate revenues from selling your services as an AdWords professional or PPC marketing expert. Not all business owners know how to manage their AdWords campaigns. Some of them are not even familiar what AdWord is. That is why they seek the services of an AdWords expert. Google gives you an online business opportunity as a paid search marketing professional or PPC expert. PPC experts are the ones who are in charge of keyword research, AdWords account management, bidding, analytics, and reporting for their clients.
5. SEO
Google is today's largest search engine. Every website owners and Internet marketers do anything just to make their pages become more visible in Google's SERPs (search engine result pages) and drive more organic search traffic to their websites. Another online business opportunity that involves Google is being a provider of search engine optimization (SEO) services to different clients or companies. As an SEO, your job is to make your clients' websites or landing pages ranked higher in Google's SERP through natural, organic, and algorithmic methods or techniques to drive more traffic to those sites and help your clients earn more profit. SEO and PPC marketing are both forms of search engine marketing. But unlike the latter, SEO is done through unpaid search marketing strategies, techniques, and tactics. As an SEO, you can earn revenue by charging your clients for your professional services.
Conclusion
Google is one of the most innovative companies in the world. That is why there are still many other offline and online business opportunities we can expect from the tech giant. For example, Android, which is under Google, is also providing several business opportunities to Android apps developers, mobile internet marketers, and other Internet and technology entrepreneurs. Therefore, don't stop learning and discovering more about Google and its potentials.