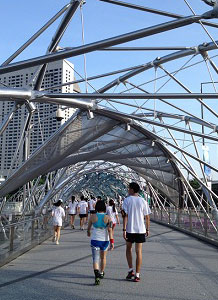 Everyone can be an entrepreneur, but only few really become genuine entrepreneurs. Entrepreneurship doesn't only mean having a successful business, inventing an innovative product or becoming rich. A real entrepreneur is someone who has a combination of great qualities and features that require natural talents, excellent skills, and enduring disciplines. That is why if you're still a single person, you may consider marrying and spending the rest of your life with an entrepreneur. Of course, you can still choose to marry an engineer, a doctor, a lawyer, or any other person that you really love – they all have their own unique qualities and personalities. But here are 8 reasons why you should marry a real entrepreneur:
1. Entrepreneurs have more freedom
Entrepreneurs have more flexibility in dealing with time. They are their own boss and they can have work-life balance. Because of their freedom and flexibility, they can spend more time with their loved ones. With an entrepreneur, you will unlikely experience a cancelled romantic date or family day. An entrepreneur will always be by your side when you need him or her. Although they are serving customers or clients, they don't have bosses that will stop them if they want to spend precious time and moments to you and to your children.
2. Entrepreneurs are innovative
Relationships fail when partners begin to feel boring with each other. Hence, if you want a partnership that will last for life, you have to marry someone who is creative and innovative. Creativity and innovation are two trademarks of people who have entrepreneurial spirit. Entrepreneurs are unique and they are naturally creative persons. They always have a passion for innovation. They will always find a way to make your marriage alive and kicking.
3. Entrepreneurs can take risks
If you want to marry someone who has a great courage, choose a real entrepreneur. Entrepreneurs are bold. They can take pain and suffering just to attain their goals. They have the essence of self-sacrifice. If you are dreaming for your knight in shining armor, an entrepreneur can be your brave warrior.
4. Entrepreneurs are smart people
Entrepreneurs are smart people. Their intelligence may not always be evident, but when things get tougher and when problems arise, they will always come up with solutions. One of the great things about entrepreneurs is that they are problem solvers. They will find a way to solve problems, whether it is entrepreneurial, financial or marital. But although they are smart, they stay humble. They always admit and learn from their mistakes to continue gaining more improvement.
5. Entrepreneurs are not materialist
Real entrepreneurs do business, not mainly for profit, but to make a difference in our world. Although they may be frugal, they are not greedy and they aren't money lovers. We all know that marriage should be cherished through thick and thin, through sickness and health, through poverty and riches, and for better or worse. Therefore, if you want to have a husband or a wife who will not argue with you when it comes to money, choose a genuine entrepreneur.
6. Entrepreneurs get rich
Although entrepreneurs don't crave too much for money, they eventually get rich. This is because they prioritize things that have long-term returns or benefits. They create products that can earn them lasting profits rather than products that earn instant money but suddenly fade away. We all know that money, as a medium of exchange and as a tool for living on Earth, is vital for building a family. Thus, if you don't want to be poor permanently, find an entrepreneur who has a path for a brighter future.
7. Entrepreneurs are patient
Entrepreneurs know how to wait. They know how to control themselves from temptations and from anything that will hinder success. We know that patience is an important element of love. Love is patient, right? Therefore, if you want to marry someone who is patient, consider an entrepreneur.
8. Entrepreneurs are consistent
Entrepreneurs may not be hardworking persons, but when they start working, they don't quit until they achieve success. They may not be fast, but they don't stop moving forward. Entrepreneurs are bound by their principles which they can stand and fight for no matter what happens. They succeed because they have promises that cannot be broken. Therefore, if you want to marry someone who can fulfill his or her marital vow, look for an entrepreneur who knows how to honor his or her words.
This article isn't only written for unmarried people who are looking for their ideal partners for life, but this post is also written to give aspiring entrepreneurs an idea what it is like to be a real entrepreneur. The reasons above are not only meant to give reasons why you should marry an entrepreneur, but it is also meant to give us the qualities of a genuine entrepreneur – qualities that we should have if we are aspiring to become real entrepreneurs.