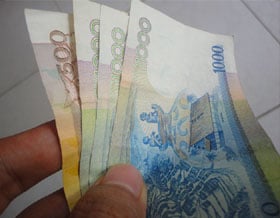 Money remittance, money transfer, or fund transfer services can be provided by banks, private remittance companies, and other remittance agents. But for the purpose of this article and considering that banks and quasi-banking companies are costly and difficult to establish, we will only discuss how to start and register a money remittance agent business in the Philippines.
Remittance Agents (RAs) refer to persons or entities that offer to remit, transfer or transmit money on behalf of any person to another person and/or entity. These include money or cash couriers, money transmission agents, remittance companies and the like – BSP Circular No 471, Section 1, as amended.
In the Philippines, remittance agents, including money changers and pawnshops are considered non-bank financial institutions, and are regulated and governed by the Bangko Sentral ng Pilipinas (BSP) through the Manual of Regulations for Non-Bank Financial Institutions (MORNBFI). Before they can start operation, they are required to register with the BSP first. And before they can register with the BSP, they are required to be registered or to apply registration with other government offices, like the DTI, SEC (for partnerships and corporations), and the local government unit (LGU) or Mayor's office.
Money remittance or money transfer can also be a good additional service or line of business to add to a pawnshop or money changing business. That is why you will observe a lot of hybrid businesses in the country with a combination of a pawnshop business, money changer business, and a money transfer business.
With the large volume of money remittances from OFWs (Overseas Filipino Workers) to our country, with our booming BPO industry, and with the rise of Filipino online business owners and professionals who are serving long-distance and overseas clients, a money transfer business can have a great market to serve and be a profitable business.
Here are some tips and guidelines to start and register a money remittance or money transfer business in the Philippines:
Registration
Before applying for a certificate of registration with the BSP, a sole proprietorship form of business should first register its trade name with the Department of Trade and Industry (DTI), while partnerships and corporations should apply for registration with the Securities and Exchange Commission (SEC). Cooperatives should apply for registration with the Cooperative and Development Authority (CDA).
Remittance agents should also secure a business permit or license to operate with the City or Municipality where the business is located or will be operated.
An attendance in the Anti-Money Laundering Law Seminar is also one of the vital requirements for registering your business with the BSP. The following is the list of documentary requirements for registering a money remittance business/agent with the BSP:
1. Application for a certificate of registration to act as FXD/MC and/or RA (Annex A).
2. Incorporation papers duly authenticated by the Securities Exchange Commission (for corporation and partnership)/CDA Registration (for Cooperative) (Activity applied for should be indicated/added in the purpose clause);
3. Copy of certificate of Registration duly authenticated by the Department of Trade and Industry (for single proprietorship);
4. Copy of business license/permit from the city or municipality having territorial jurisdiction over the place of establishment and operation (Activity applied for should be indicated/added in the kind of business and original copy should be presented);
5. List of stockholders/partners/proprietor/directors/principal officers as the case may be; (Name, Designation, Contact No. and Address);
6. Notarized Deed of Undertaking (Annex B) to strictly comply with the requirements of all relevant laws, rules and regulations, signed either by the owner, partner, president or officer of equivalent rank;
7. Two (2) copies passport size pictures and Xerox copy of one (1) valid ID with picture and signature of the proprietor or the officer duly authorized by the Board of Directors or Partners;
8. Notarized document on tie-up agreement with a remittance company (REMCO)/Remittance Service Provider (RSP).
a. For any REMCO/RSP or counterparty based abroad, proof that the REMCO/RSP or counterparty is licensed by the regulatory authority to engage in the remittance business and is subject to the anti-money laundering laws of the country;
b. For an entity acting as local agent of a REMCO/RSP, a copy of agreement between the local agent and the REMCO/RSP;
c. For an entity that is a sub-agent or sub-representative of a local agent, copy of tie-up agreement between sub agent/sub-representative and local agent;
9. Attendance in the Anti-Money Laundering Law Seminar (also, for branch staff); and
10. Any additional documents which the BSP may require from time to time.
Aside from registering with the DTI (for proprietorship), SEC (for partnership and corporation), CDA for Cooperatives) and securing a certificate of registration or license to operate from the BSP and the City or Municipality Office, remittance agents should also register with the Bureau of Internal Revenue (BIR) to obtain official receipts/invoices, books of accounts, and to comply with their internal revenue tax obligations with the government.
Moreover, for businesses which are hiring employees, registration with the Social Security System (SSS), Philippine Health Insurance Corporation (PHIC), and Home Development Mutual Fund (HDMF) is also required.
To learn more about the registration of businesses in the country, you may read our post on "how to register your business in the Philippines".
Other requirements
Remittance agents are subject to the provisions of R.A. No. 7653 (The New Central Bank Act) and R.A. No. 9160 (Anti-Money Laundering Act of 2001, as amended by R.A. No. 9194) and its implementing rules and regulations, particularly on customer identification, record keeping and reporting of covered transactions and suspicious transactions , BSP Circular No 471, Section 1, as amended.
To learn more about BSP regulations on remittance agents, such as the required information to be submitted by the sender/remitter, reportorial requirements, and sanctions, you may visit, inquire or call BSP with the following address and contact information.
Bangko Sentral ng Pilipinas
A. Mabini St. cor. P. Ocampo St.,
Malate Manila, Philippines 1004
Tel. No. : (632) 708.77.01
E-mail: bspmail@bsp.gov.ph
You may also read in full the following references:
Reference:
BSP Circular No 471, Series of 2005 
BSP Circular No 652, Series of 2009 
BSP Issues Guidelines on Use of Electronic Money 
Manual of Regulations for Non-Bank Financial Institutions (MORNBFI) 
Disclaimer: This article was written and published for informational use only and is not provided to serve as legal, tax, or investment advice. Furthermore, new and subsequent laws, regulations, issuances, circulars and rulings related to the topic that will occur in the future may render the whole or part of the article obsolete or inaccurate. We do not guarantee and is not liable for the accuracy or completeness of any information provided herein or in any outcome as a result for using this information.