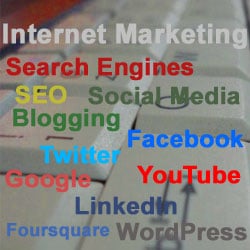 Marketing is essential to business success. Without an effective marketing mix implemented for our business, we can hardly sell our products and services to our target market to attain business profitability and stability. That is why every business owner and entrepreneur should always come up with an effective and efficient marketing strategies and tactics to achieve their business and entrepreneurial goals.
With the growing Internet population, business owners and marketers should not wait any longer before they put their business and marketing online. And when they put their businesses online, they should not just put them there and wait for a miracle to happen. Business owners and marketers should actively and passionately do or outsource Internet marketing to constantly grow their presence online. They have to apply different Internet marketing strategies, tactics and techniques to determine what are the best for them.
In the Philippines, businesses, whether micro, small, medium or large enterprise, are already exploring and utilizing the Internet to leverage it for their benefits and advantages. Many companies are already hiring or getting the services of SEO (search engine optimizers), social media marketers, bloggers, affiliate marketers, PPC marketers and other Internet marketers to strengthen their online marketing campaigns. Other business owners and entrepreneurs, particularly small business owners, are already trying to learn and implement online marketing on their own to stay in the business competition.
Internet marketing is simply marketing primarily done online unlike traditional marketing that are primarily accomplished even without the use of the Internet. However, online and offline marketing can also be combined to form a more powerful marketing campaign. In fact, most of the important marketing fundamentals like quality and relationship are found both in online and offline marketing.
There are several types of Internet marketing that can be implemented for businesses in the Philippines. Filipino business owners, entrepreneurs and marketers can try Search Engine Marketing (SEM) to optimize their business or website for the search engines, like Google, Yahoo and Bing. SEM can be organic or paid search marketing. Organic SEM is commonly called Search Engine Optimization (SEO) while paid search marketing involves Pay Per Click (PPC) marketing. Marketers can implement organic search marketing through SEO to optimize their website and content for search algorithms and to rank higher in the organic Search Engine Result Pages (SERP). They can also implement PPC marketing to make their business or brand more visible on the SERP's sponsored ads or in the network of websites of PPC companies, like Google AdWords and Bing Ads.
Although SEO can be done for free by business owners, if they don't know anything about SEO, they can hire SEO specialists to do it for them. On the other hand, PPC marketing will always involve cost and business owners have to pay for their PPC campaigns. They can also hire PPC marketers to manage their campaigns for them.
Aside from Search Engine Marketing, which involves SEO and paid search marketing, Filipino business owners and marketers can also leverage the Internet for their businesses through social media marketing. Social media marketing involves building your presence on social media sites, like Facebook, Twitter, Instagram, Pinterest, LinkedIn, Google+, FourSquare, YouTube and others. Social media strategies like creating a Facebook Page, Twitter Profile, Google+ Page and YouTube Channel can be done without spending money. Although one must spend enough time to make their social media presence constantly active and interactive.
Blogging can also be considered as part of your social media campaign since blogs are also considered social media. Blogging can be a powerful online marketing strategy if done right. A quality blog which regularly publishes fresh and useful content or blog post can attract a large audience, build good and lasting relationships, and grow your business reputation and authority online. Filipino business owners, entrepreneurs and marketers can create a self-hosted WordPress blog to enjoy controllability, manageability, and flexibility. However, it also involves costs, such as yearly domain name registration and monthly web hosting. Alternatively, they can also try free blog hosting like Blogger, WordPress.com or Tumblr. But as we are talking about business and professionalism, I always recommend business owners to invest in a self-hosted blog which is more powerful and scalable.
There are many other online marketing strategies that businesses in the Philippines can implement to strengthen their presence online. They can also try display marketing (banner advertising), affiliate marketing, email marketing, viral marketing, et cetera. To learn more and check what's the best online marketing strategy for your business, you can read our posts about Internet marketing in the Philippines and the types of Internet marketing you can try to leverage for your business.