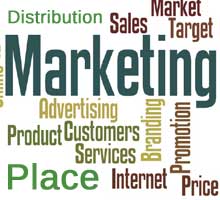 Firstly, marketing is not all about making money. I've observed a lot of people calling themselves marketers or doing marketing because they are already making money online or anywhere else. Although increasing a business profit is one of the goals of marketing, it also targets other important things, such as ensuring the quality of your products, satisfying your customers, and maintaining good and lasting relationship with them.
Real marketers know the 4Ps of marketing (or the four basic elements of marketing), that is, product, price, place, and promotion. Thus, in order to practice marketing, you don't only practice promotion or advertising, but you also make your product, price, and place satisfying to customers.
Marketing ideas to improve your product
If you are looking for marketing ideas and strategies to boost your sales and grow your business, you have to start looking for ideas on how to improve the quality of your products or services, such as the following:
– Conducting research and gathering important data about your market to determine what customers really need
– Training your employees or staff to improve your services
– Using high quality raw materials to produce high quality finished products
– Improving your technology to improve your business processes
– Implementing quality control policies to ensure the quality of your product or service.
– Knowing your competitors to learn how you could make your products more competitive and even make it the best in the market
– Providing extra services aside from your main product to wow your customers
Using price as a marketing mix
You can also put your pricing in the marketing mix to improve your marketing campaign. For example, you can offer discounts to attract more customers and increase your sales. Aside from offering discounts, it is also important to align your prices for the right customers. You have to price your product according to your target customers. For example, if your target market is the masses, then you should also come up a price that will be affordable for the masses.
Making your business more accessible
Even if your product and price are enticing to customers, if your location or channel of distribution is poor, you might be losing opportunities to attract more customers and boost your sales. Thus, you have to improve your business place or accessibility. Some of the ways to do that are the following:
– Choosing the right location for your business
– Creating a website to give your business an online presence where current and potential customers could access or do transaction with your business through the Internet
– Expanding your reach through affiliate and referral marketing
– Improving your marketing channels by partnering with resellers and distributors
Promoting your business
Promotion is also an important element of marketing because even though you have an excellent product, reasonable price, and good placement, if only few can hear or notice them, your marketing effort may be lacking. That is why business owners and entrepreneurs spend money and time to advertise or announce their product to their target market.
There are many ways to promote your business and brand. You can promote them online or offline. There are marketing strategies that would require you to spend money and there are also strategies you could do without spending a dime.
You can check out the following "50 free small business marketing ideas" to grow your small business. You may also read these "37 Internet marketing ideas for small businesses" to promote your business online. Internet marketing in the Philippines is one of the most affordable yet effective marketing strategies for small, medium, and big businesses.