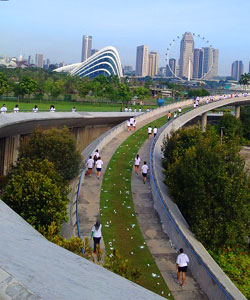 Leadership is the act of leading a group of people to achieve a common goal. In other words, if you force a group of people to help you achieve a certain goal that they tend to disagree – that's not leadership. To be a leader you have to influence and inspire people to agree with your goal, and make that goal their goal too – that's why it's called a common goal.
Small business owners who don't have much power and financial resources need to become better leaders to grow their business and achieve success. They have to learn how to share their goals and influence people to willingly help them realize those goals. They need to become successful in leading and managing their employees or workers. They also have to learn how to lead potential and current customers. The following are 12 leadership tips for small business owners and aspiring entrepreneurs.
1. Learn how to lead yourself. The first test of successful leadership is leading yourself successfully. Thus, you have to learn how to overcome the worst things in you, like you bad attitudes and habits. You have to free yourself from your worst personalities, and be independent. If you cannot transform yourself, then how could you influence your employees or customers?
2. Have a clear mission and vision. Leadership is an action or series of actions to accomplish a certain mission and realize a vision. If you don't have a clear mission and vision, then your leadership wouldn't have a direction and destination. Hence, don't forget to establish your small business with a great mission and vision.
3. Live by your principles and core values.  Your small business should have strong foundations that will make it long lasting. Establish your business principles and core values, and stand for them. Successful leaders live by their principles and values. Entrepreneurs should always maintain qualities and values in their businesses, such as excellence, accountability, team work, and customer care.
4. Be a diligent leader. If you really want to encourage your employees or staff, you have to show to them that you are working hard for your business goals. If you want to inspire your customers, you have to show to them that you are working hard to provide them quality and satisfying products.
5. Make it a habit to be selfless. Leaders work for a team, and not for themselves. Greed and selfishness could instantly discourage your followers, who can be your workers or loyal customers. Therefore, always ask yourself… "when was the last time you did a selfless act for your employees and customers?"
6. Pay attention and respect. It's not always money that encourage people to share their dedication and work to achieve your goals. They may follow your instructions, but what they are really following are your money – not you as a leader. That is why don't make money lead yourself and your people. Pay attention and respect to understand what they really need. If you can give them attention and respect, your employees and customers can also give these things to you in return and help you achieve productivity and profitability in your business.
7. Be a role model. If you want people to follow you, then show them how to be a good follower. Don't break your own rules. You are the leader because you are the one who is supposed to lead or to do the first move. Show your employees how to be a good follower of your company policies. Show your customers that you are following quality standards and excellence in your industry.
8. Learn how to show your strength and gentleness. Show to your employees that you have the power and strength that they can rely on. Show to your customers that you have a powerful product that they can depend on. But don't forget to show gentleness to your workers when you are rebuking them and show calmness to your customers when they are misbehaving.
9. Embrace humility and accountability. Leadership is about change and improvement. That is why you have to be humble to admit your mistakes and be accountable to correct them. In order to inspire and lift people up, you have to be down to Earth. In order to make your workers and customers secure, you need to have Integrity and be honest with your mistakes.
10. Be a trust builder. Don't just wait for people to trust you, but strive to be trustworthy first. Be true to your words and fulfill your promises. You also have to make your followers feel that they are also trusted by their leader – you. Thus, learn how to empower your employees and learn how to accept customers' feedback. Be both trustworthy and trusting.
11. Be brave but don't forget to be watchful. Great leaders are courageous, but they are also strategic and tactical. If you want to lead your business to growth and success, learn how to get out of your comfort zone and face the challenges ahead. However, don't forget to be considerate about your followers to protect them from troubles. You can sacrifice your self-interest, but you can't sacrifice the welfare of your people, especially your customers. Always have a plan to make sure that the courage you will show will benefit your business in a long term.
12. Be compassionate. We always hear it – that compassion makes a leader great. But though compassion is one of the most familiar words in leadership, few people actually acquire it. Compassion is easier said than done because it doesn't only involve hearing what people say or reading what people think, but it involves feeling what people really feel and experiencing what they really experience. If you want to lead your employees and customers, you have to experience what they also feel, whether it's joy or pain. If you can be compassionate, you can have a better understanding about your followers and come up with better business decisions and actions.
Final thoughts
Starting a small business is also starting leadership, and you have to strive to be a better leader as your business grows. You can even practice leadership even before you start a business and deal with employees and customers. If you will not hone your leadership skills now, then how can you lead your business in the future where challenges are getting tougher? Therefore, it doesn't matter if your business is small – you should always strive to be a big time leader.
For more small business tips, you may also read our posts about marketing tips and management tips for small business owners.